Raw chocolate eggs or balls

Vegan - Gluten Free - Lactose Free

Preparation time: 60 minutes - Difficulty: easy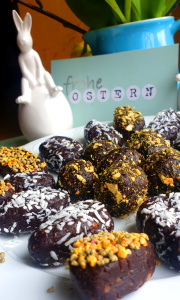 Preparation:
Place all ingredients in a high-powered blender/blender and grind briefly on high speed.
If you press with your finger into the mass and it becomes solid, the consistency is good, otherwise possibly add some vegetable drink.
Then use 2 teaspoons to form the mixture into balls or eggs.
Put the coconut flakes in a small bowl and roll the balls in it. Press the coconut flakes between your hands and put them in an airtight container in the fridge.
Since they are so super delicious and always provide an extra dose of energy, they are sure to be consumed soon.