Rhubarb Cheesecake with Macastreusel
Preparation time: 120 minutes - Difficulty: easy
Ingredients base:
- 200 g spelt flour type 630
- 70 g ground almonds
- pinch of salt
- 0.5 tsp baking powder
- 1 egg yolk, the white can be included in the filling
- 100 g raw cane sugar
- 2 tbsp
Maca Powder (Bio)
- 150 g very soft butter
For the filling
:
- 400 g cream cheese
- 200 g sour cream
- 1 egg and the egg white
- pulp of 1 vanilla pod
- zest of 1 organic lemon
- 80 g sugar
- 350 g rhubarb cleaned and cut into 2 cm pieces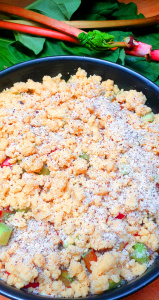 Preparation of the base:
Preheat oven to 180 degrees convection. Baking time approx. 1 hour in total.
Knead all ingredients well and put 2/3 of the dough into a greased 24 springform pan and prepare a nice cake base.
Pre-bake this for 20 min. Refrigerate the rest of the crumble dough.
After the baking time, let the base cool briefly before adding the filling.
Preparation Filling:
Mix all ingredients except the rhubarb to a smooth cream, spread on the slightly cooled cake base, spread the rhubarb pieces on top, press down lightly and sprinkle with the crumbles.
Bake for another 40-45 min on the middle shelf.
Make sure that it does not get too dark, if necessary cover with baking paper.