Ribbon noodles with cauliflower, tominabur and hemp seed powder
Preparation time: 45 min - Difficulty: easy

Vegan - Lactose-free - Vegetarian option: grated cheese

Ingredients for 2- 3 servings:
- 300 g tagliatelle without egg
- 1 pack of smoked tofu
- 2 onions
- 1 garlic clove
- 2-3 tbsp. olive oil
- 1 small cauliflower
- 3 tubers Tompinabur
- 1 pack. Oat cream
- option garlic
- 1 tbsp.
hemp protein powder
- 100 g grated cheese - mild or strong variant to taste
- 125 ml vegetable broth, 1 tbsp. soy sauce
- salt, pepper, nutmeg
- fresh parsley and walnuts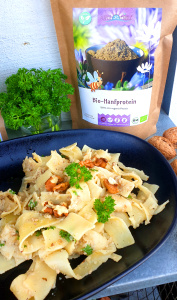 Preparation:
Clean the cauliflower and cut it into florets.
You can use the Tompinabur with the skin. It is full of good vitamins.
Just brush it well under running water.
Peel the garlic and onions, roughly dice the tofu and chop with the vegetables in a food processor or Thermomix on speed 4.
Heat the olive oil in a large pan and sauté everything well, 5-7 mins.
Then deglaze with vegetable stock and soy sauce and simmer on a low heat for about 20 minutes, stirring in between.
In the meantime, cook the ribbon noodles in salted water according to package instructions, drain and season with nutmeg.
When the cooking time for the vegetable sauce is over, stir in the oat cream and the hemp powder and season with salt and pepper.
Then mix the noodles with the vegetable sauce directly in the pan or arrange them on a plate and pour the sauce over them.
If you like, sprinkle with grated cheese.
We recommend finishing with freshly chopped garden parsley and walnuts.
Our delicious quince applesauce goes very well with this !