Rosehip pulp

Vegan - Gluten Free - Lactose Free

Preparation time: 60 minutes - Difficulty: easy
Ingredients for 1 jar a 300 ml:
- 500 g rose hips
- 160 g raw cane sugar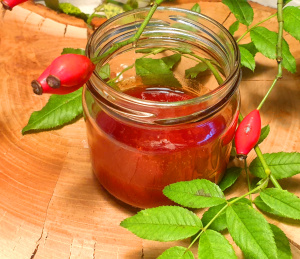 Preparation:
Wash the rose hips, remove the stems and fine hairs - which can cause itching - and boil them with 400 ml of water for about 1 hour until very soft. In a pressure cooker 10-15 minutes are enough.
Then strain the fruit into a bowl using a fine sieve or a spatula.
Weigh the pulp, in the ratio of 2 parts pulp to 1 part sugar, put everything in a saucepan and cook for about 5 minutes, stirring constantly.
Then pour into a twist-off jar rinsed with hot water and seal directly.
Product Tip:
You can take the rose hips of any rose variety- the riper the better.
The inner with seeds remains in the sieve and does not need to be removed beforehand.
The pulp fits fruity-tart to desserts, as a spread, to cheese and also to savory dishes.