Spirulina spaghetti with broccoli cream sauce and mushrooms
Level of difficulty: easy - Preparation time: 20 - 25 minutes - For 2 people


Ingredients:
- 200g wholegrain spaghetti
- 100g broccoli
- 100g mushrooms
- a few parsley leaves
- 1 tsp organic spirulina powder
- 2 tbsp yeast flakes
- 100 ml almond milk
- 1 tbsp tomato puree
- 1 tsp mustard
- 50 ml vegetable stock
- 1 tbsp agave syrup
- salt, pepper, garlic, nutmeg
- a squeeze of lemon juice
- a little olive oil
- 1 date tomato to garnish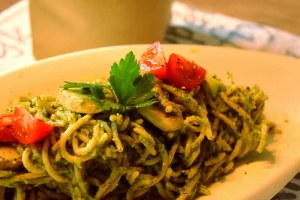 Preparation:

Place the wholegrain spaghetti in lightly salted water and cook until al dente. Meanwhile, wash the broccoli and cut into fine florets. Cook for approx. 5 minutes. Slice the mushrooms and sauté in olive oil. Add the tomato purée and mustard and stir well. Remove about 2/3 of the mushrooms from the pan and set aside.

Next, add the broccoli to the remaining mushrooms and fry briefly. Deglaze with 50 ml vegetable stock, add the almond milk and season with salt, pepper, garlic and nutmeg. Puree finely with a hand blender and then stir in the yeast flakes and agave syrup.

Drain the pasta, leave to drain briefly and drizzle with a little olive oil, then carefully sprinkle over the spirulina powder and mix well. Finally, add the mushrooms and parsley and stir the sauce well.

To garnish, cut the date tomato into quarters and place on top together with a parsley leaf.

Tip:
The spirulina powder has a strong taste of its own. In this combination, it blends in perfectly. However, if it is too intense, simply add a little more yeast flakes.