Strawberry Rhubarb Ketchup with Aspermühlen Organic Rhubarb

Vegan - Lactose-free - Gluten-free

Preparation time: 75 minutes - Difficulty: easy
Ingredients for 6 glasses a 180g:
- 100 g rhubarb fresh
- 100 g asparagus
rhubarb
- 200 g fresh strawberries
- 400 g cocktail tomatoes
- 1 red onion
- 2 garlic cloves
- 2 tbsp olive oil
- 4 tbsp coconut blossom sugar or other
- 2 tbsp soy sauce
- 5 tbsp white wine vinegar
- 1 tbsp curry
- Spices: Chilli, fleur de sel, pepper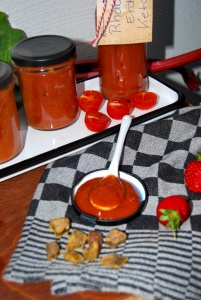 Preparation:
Clean, wash and chop rhubarb & strawberries.
Peel garlic & onion and finely dice both and sauté well in olive oil in a pot, then lightly caramelize with sugar.
Wash tomatoes and simmer together with strawberries, rhubarb, soy sauce, curry, white wine vinegar and spices for 20-25 minutes until thick and stir occasionally so that it does not stick.
Then finely puree, season to taste and pour into clean jars rinsed with hot water and seal tightly.
Very tasty with grilled vegetables, smoked tofu, mushrooms, poultry and falafel.