Summer potato salad with capuchin flowers & nettle seeds from our garden

Vegan - Gluten Free - Lactose Free

Preparation time: 60 minutes - Difficulty: easy
Ingredients for 2 servings:
- 700 g potatoes
- 1 tsp sea salt coarse
- 1 tsp cumin seeds
- 1 red onion
- 1 apple
- 4 radishes
- 100 g peas fresh or frozen (if you take fresh peas, you need approx. 300-400 g pea pods)
- 1 celery stalk
- juice of 1 organic lemon
- 2 tbsp. olive oil
- fresh dill and parsley to taste
- 1 tsp. vegetable stock (yeast-free)
- salt, ground pepper
- 1 handful of nasturtium flowers
- 2 tbsp. nettle seeds
- option: as a garnish there was with us still steamed broccoli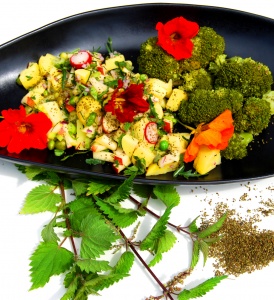 Preparation:
Wash potatoes, place whole with skins in a pot, cover with water and bring to a boil with 1 tsp each coarse sea salt and caraway seeds.
When the water boils, reduce heat and simmer for 20-25 min. Do a cooking test.
De-sheat the peas and bring water to a boil in a pot, once it boils, put a steamer insert with the peas in it without it touching the boiling water, close the lid and steam the peas for about 3-4 minutes.
In the meantime, peel the onion, clean the apple, radish, celery stalk and cut each into fine pieces and slices, squeeze the lemon and wash the fresh herbs, dab dry and chop finely.
Put everything in a bowl, add the peas, mix well with oil, a little vegetable broth, pepper, salt.
Drain the potatoes, let them cool a bit and peel them best while still warm, cut them into cubes, add them to the other ingredients and let everything steep well, season with salt & pepper.
Nettle seeds:
Nettle seeds are a valuable source of vegetable protein for us.
For our topping, we roast them in a coated pan without oil- be careful, it goes fast- roasted until it smells slightly nutty. The flowers of the nasturtium add their mustardy aroma.
Find nice locations without fumes nearby to gather.
You will need scissors and and preferably a larger cotton cloth, for smaller quantities a kitchen towel will do. Collect only the female seeds, you can clearly recognize them by the fact that they hang down in thick clusters.
Cut off the whole stalks and wrap them in the towel to dry them whole for a few days.
When the seeds are dry, shake them into a bowl and then into tightly sealed jars. You can use the nettle leaves for tea.