Super seed bread with hazelnut honey and psyllium husks

Vegan - Gluten-free - Lactose-free
Preparation time: 90 minutes - Difficulty: medium
Ingredients:
- 135 g sunflower seeds
- 90 g linseeds
- 65 g hazelnuts or other nuts
- 145 g oat flakes gluten-free
- 4 tbsp
psyllium husks
- 1 tsp salt
- 1 tbsp
hazelnut honey
- 5 tbsp vegetable oil
- 350 ml water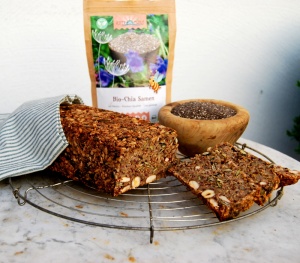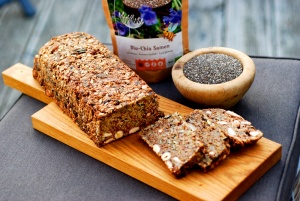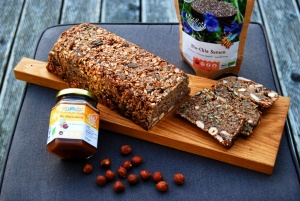 Preparation Cheesecake:
Mix all dry ingredients in a bowl or food processor. Add honey, water and oil and mix thoroughly.
Line a loaf tin (8 x 25 cm) with baking paper. Spread dough mixture evenly in it, press down and smooth the surface with a spoon.
Cover with a damp cloth and leave to soak in the fridge for several hours or overnight.
Preheat the oven, top and bottom heat 180 degrees or convection oven 160 degrees.
Place the tin in the preheated oven and bake for about 20 minutes until the surface is lightly browned.
Then remove the bread from the pan, take off the baking paper and bake it upside down on the rack for another 30 to 40 minutes. This will brown it on all sides and a nice crust will form.
Then remove the bread from the oven and let it cool.
It will keep for several days if kept cool