Teatime - Tanzanian tea punch with spices

Vegan - Gluten-free - Lactose-free - Alcohol-free

Preparation time: 15 minutes - Difficulty: easy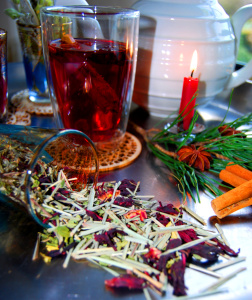 Preparation:
Lightly press the cardamom pods with the back of a knife, cut the vanilla bean in half lengthwise and place in the boiled water with the tea mixture in a tea filter and let steep.
In the meantime, put the pomegranate juice with the spices in a saucepan and infuse over low heat for 30 min.
Remove the spices from the pot and put them aside for decoration. Mix the pomegranate juice, tea and agave syrup, pour into the tea glasses and enjoy decorated with a cinnamon stick or star anise.

Do you already know our other teas:
cistus tea, lapacho tea, Greek mountain tea tea