Tofu leek pockets with rosemary & thyme
Preparation time: 60 minutes - Difficulty: easy
Ingredients for approx. 18-22 pieces, depending on the size of the glass:
- 1 leek
- 1 onion
- 1 carrot
- 200 g low-fat quark
- 100 g tofu smoked with almonds
- 5 tbsp rapeseed oil + 1 tbsp for browning
- 150 g cottage cheese
- 2 sprigs each of
rosemary
&
thyme
or 2 tbsp each dried needles
- 250 g spelt flour type 630
- 1 deleted tsp baking powder
- 1 tsp salt, bell pepper, paprika, chili flakes
- 300 DK flour type 630 and something to work out
topping:
- a little milk to spread and sprinkle with sesame seeds.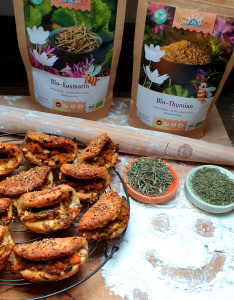 Preparation Filling:
Clean the vegetables, peel the carrots and onions and cut them into coarse pieces, dice the tofu and coarsely chop everything in a food processor.
Heat 1 tablespoon of the oil in a non-stick frying pan and add the vegetable-tofu mixture. Stir-fry for about 5 minutes and season to taste.
Leave to cool.
Meanwhile, wash the herbs, shake them dry or take the dried herbs and chop them finely.
Mix curd and oil in a bowl, mix flour and baking powder, knead herbs and salt into the dough and put aside covered.
Mix the tofu and leek mixture with the cottage cheese and season again.
Now roll out the dough on a floured work surface about ½ cm thick, cut out about 18-22 with a glass and put 1 tablespoon of filling in the center of each and fold the dough circles into half circles.
Press the edges with a fork, brush with a little milk and sprinkle with sesame seeds.
Line a baking tray with baking paper and place the dumplings on it with a little space between them and bake on the middle shelf at 180 degrees convection oven, without preheating, for about 20-30 minutes.