Vegan chocolate mousse with grape quince ragout

Vegan - Lactose-free - Gluten-free

Preparation time: 60 minutes - Difficulty: easy
Ingredients Mousse:
- 5
dates
pitted
- 400 g silken tofu
- 2 heaped tbsp
cocoa
- 50 g melted vegan chocolate
- 1 tbsp almond paste dark
- 1 pinch fleur de sel
- some ground vanilla or tonka bean - according to taste
Ingredients Fruit ragout:
- 250 g grapes seedless
- 50 g
Aspermühlen quinces
- 1 tbsp butter or margarine
- 50 ml apple juice
- 1 tsp cornflour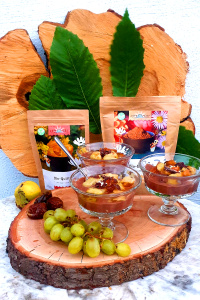 Preparation Mousse:
Soak dates in hot water for about 15 min and in the meantime chop the chocolate and melt it in a water bath.
Then pit the dates and put them in a powerful blender with all the other ingredients for the mousse until it is nice and creamy.
Divide the finished cream into 4 dessert bowls and chill for about 4 hours before serving.
Preparation Grape-Quitten Ragout:
Pluck the grapes from the stems, wash and score them.
Bring a small pot of water to a boil, blanch the grapes in it for 2 minutes and then drain them in a fine sieve, rinse them in cold water and let them cool.
Then you can better peel off the skin and cut the grapes in half.
In the meantime, melt the butter in a non-stick pan, caramelize the quinces in it, add the grapes, deglaze with some of the apple juice and put the other part in a shaker with the cornstarch until there are no more lumps in it and thicken the ragout with it and then let it cool down in a small bowl.
Put the ragout on the mousse before serving, pimped with chocolate shavings and cream a dream.