Wild garlic risotto & fresh goat cheese

Vegetarian - Gluten-free - Lactose-free - *Vegan option

Preparation time: 60 minutes - Difficulty: easy
Ingredients for 4 servings:
- 150 ml hot water
- 1 tbsp
Julian's Tasmanian Tea
- 2-3 shallots
- 3 tbsp olive oil
- 250 g risotto
- approx 250 ml vegetable broth- as needed
- 50 ml cream or *oat cream
- 150 g fresh goat cheese or *almond cream cheese
- 50-100 g fresh wild garlic- to taste
- Fleur de Sel, freshly ground pepper
- some Fleur de Sel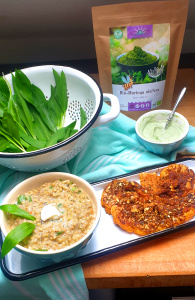 Preparation:
First brew the Tasmanian tea and let it steep, meanwhile finely dice the shallots and sauté in the olive oil until translucent.
Then add the risotto rice and sauté for about 3 minutes, stirring with a wooden spoon in between.
Then deglaze with the strained tea.
Bring to a boil and gradually add some of the vegetable broth.
It is ready when the liquid is absorbed and the risotto still has a slight bite.
Now you can add the cream and stir in the cream cheese. Save some for the topping!
Wash the wild garlic, pat dry, cut into fine strips and fold into the warm risotto. Again, save a few strips for ganja.
Season with fleur de sel & pepper and let it sit for another 5 minutes.
Serve in 2 nice bowls or plates and top with cream cheese and fresh wild garlic strips.
Tip: this tastes great with our cauliflower schnitzel with moringa dip!
Also a great Easter dish !