Cauliflower cutlet with moringa - fresh goat cheese dip
Preparation time: 60 minutes - Difficulty: easy
Ingredients for 4 servings:
- 1 large cauliflower
- ½ organic lemon, of which the peel grated
- 4-5 tbsp olive oil
- 1 tbsp
pumpkin seed protein
- bell pepper, salt,paprika,a little cayenne pepper
- 80 g pumpkin seeds chopped
- 2 tbsp yeast flakes
Dipping:
- 1 packet goat cream cheese
- 1 tsp
Moringa powder
(the delicate taste of horseradish goes great)
- squeeze of lemon
- possibly fresh herbs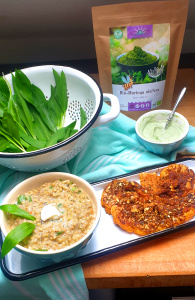 Preparation:
Remove the outer leaves from the cauliflower and remove the lower part of the stem, then rinse and pat dry.
Cut the cauliflower lengthwise into slices about 3 cm thick and place on a baking sheet lined with baking paper.
Loose florets just add, we make crispy nuggets out of them.
Mix the olive oil with lemon zest, Kübisprotein powder and spices, brush the cauliflower steaks on both sides with it and sprinkle with pumpkin seed yeast flakes.
Preheat oven to 200° top-bottom heat and bake on middle rack for approx. 30 min. After half of the baking time turn.
It's best to keep an eye on them in between, because especially the smaller nuggets quickly become too dark.
In the meantime, mix the goat's cream cheese with lemon juice and Moringa powder and season to taste with pepper and salt or fresh herbs.
Arrange the crispy cauliflower steaks on plates.
They taste great as a side dish with many of our vegetable or salad dishes or with wild garlic risotto.
Also a great Easter dish !