Zucchini parcels with halloumi cheese or smoked tofu

Vegan - Gluten Free - Lactose Free

Preparation time: 60 minutes - Difficulty: easy
Ingredients for 2 servings:
- 2 long, narrow zucchini green or yellow
- 4 garlic cloves
- 1 red chili pepper
- 2-4 sun-ripened cocktail tomatoes
- 1 handful
sage leaves
fresh or dried
- a few
sprigs of thyme
fresh or dried
- 250 g halloumi cheese or smoked tofu
- 4 tbsp olive oil
- salt, pepper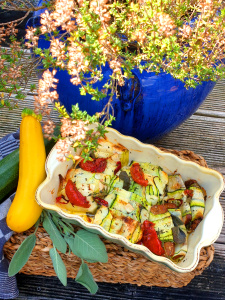 Preparation:
Wash fresh herbs and shake dry.
Peel the garlic and cut it into fine strips, as well as the chili pepper.
Put 2 tablespoons of the olive oil in a baking dish and add half of the garlic, chilli and herbs.
Wash and dry the zucchini and peel narrow strips lengthwise from all sides with a peeler.
Pat halloumi or tofu dry, cut into even slices and wrap each in 2 zucchini strips to form parcels.
Place the packets close together in the baking dish, brush with the remaining olive oil and sprinkle with the herbs, season with salt and freshly ground pepper.
Preheat the oven to 180 degrees and bake for about 30 minutes.