Pumpkin fries with spirulina-mustard dip and veggie bean pan
Preparation time: approx. 60 minutes -• Level of difficulty: medium -• For 3 persons


Ingredients:
- 1 Hokkaido pumpkin
- 3 tbsp. mustard
- 250ml cream (soy cream for the vegan alternative)
- 2 tsp. spirulina powder (organic)
- olive oil
- 300g veggie gyros (do-it-yourself: see other recipes)
- 300g green beans
- 3 tbsp. tomato paste
- 1 onion
- 1 clove of garlic
- 1 str. TL savory
- sweet paprika
- curry powder
- grill and pan seasoning
- salt, pepper, sugar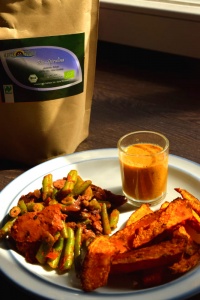 Preparation:
Preheat the oven to 250 °C circulating air.
Put the beans in boiling water and cook for about 20 minutes.
First cut the pumpkin in half and remove the seeds. Then cut into thin stripes/fries and put them into a large bowl.
Mix 3 tbsp olive oil with 1 teaspoon of spirulina powder and pour over the pumpkin fries. Sprinkle some coarse sea salt and pepper from the mill, as well as curry powder and paprika spice over them. Close the bowl and shake well until the spices are well distributed.
Line a baking tray with baking paper and spread the pumpkin fries on top. Put the whole thing in the oven and bake for about 20 minutes until golden brown.
In the meantime, the dip can be prepared. For this, heat 200 ml of the cream in a small pot and stir in the mustard. Season to taste with a teaspoon of sugar, a little salt and pepper, then bring to the boil briefly. Mix one teaspoon of spirulina with a tablespoon of olive oil and slowly fold into the dip.

Attention: Do not add spirulina directly as powder, lumps will form and the spirulina powder will not dissolve!
Next, quench the beans with cold water (or pour them into ice water) to preserve their colour.
Fry the veggie gyros with diced onions in a pan, add a chopped clove of garlic and season with salt and pepper. Add the beans and fry for 3 to 4 minutes. Then stir in 3 tablespoons of tomato paste and deglaze with 50 ml of cream. Finally season with paprika and curry spice, salt and pepper and serve!

Tip:
Besides spirulina, a teaspoon of Chloerella also tastes very good and makes the dish even more hearty. Bon appetite!