Vegetable burgers with zucchini-mushroom pan and sweet potatoes with chlorella ketchup
Meatballs with zucchini and mushroom pan and sweet potatoes with chlorella ketchup

Level of difficulty: medium - Preparation time: approx. 60 minutes - For 2 persons
ingredients:
For the vegetable cakes
- 100g tofu
- 80g kidney beans
- 60g corn
- 3-4 Cham,pignons
- 2 shallots
- 1 clove of garlic
- 50g breadcrumbs
- 3 tbsp. yeast flakes
- 3 tbsp. rapeseed oil
- 40g Seitan-Fix
- a small sip of water
- 3 tbsp. chia seeds (organic)
- 2 tbsp. psyllium husks (organic)
- paprika powder
- salt, pepper
- curry powder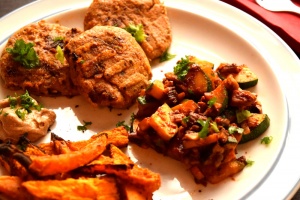 For the chlorella ketchup:
- 3 tablespoons of olven oil
- 30g tomato puree
- 40ml soyacuisine
- 1 tablespoon of chlorella powder (organic)
- 1 tablespoon of flower pollen

For the Zuchini-Champingon-Pan:
- 100g mushrooms
- 100g courgettes
- salt, pepper
- 2 tablespoons olive oil
- 20g tomato puree
- a few leaves fresh basil
- 1 tablespoon agave syrup

For the sweet potatoes:
- 500g sweet potato m
- 5 tbsp. breadcrumbs
- paprika powder
- salt
- curry powder
- 1 tbsp. agave syrup
3-4 tbsp. olive oil
Preparation:
The vegetable patties are best prepared with a food processor or a mixer. First of all, crumble the tofu and put it in the food processor. Add all other ingredients except the water and seitan fix and stir to a kind of smooth dough. Then add the Seitan-Fix and the water while stirring and knead. If the mixture is still too soft, just add more Seitan-Fix. Now shape the mixture into meatballs and chill for about 20 minutes.
In the meantime, preheat the oven to 250 °C convection oven and slice the sweet potatoes. Put them into a bowl and mix them with the oil, spices and breadcrumbs. Then place the whole thing on a baking paper covered with oil and bake for about 15 minutes on the middle shelf until golden brown.
Meanwhile, chop the mushrooms and courgettes and fry them in a pan with the olive oil. Add the tomato paste and fry for about 2 minutes. Add the remaining ingredients and fry for another 5 minutes.
Finally, prepare the chlorella ketchup. To do this, mix the oil well together with the other ingredients and finally add the chlorella powder and mix well again.
Now fry the vegetable meatballs. Heat the rapeseed oil in a pan and fry the meatballs in it until golden brown on both sides. Then turn off the heat and let the vegetable meatballs simmer in the pan. During this time the sweet potatoes can be arranged on a plate together with the chlorella ketchup and the zucchini mushroom pan. Finally, add the meatballs and the dish is ready!
Tip:
Seitan-Fix usually contains about 70% protein and is therefore an excellent vegetable protein source. In combination with kidney beans, which also contain a lot of protein, these vegetable meatballs are a meat-free yet protein-rich and delicious meal!