Aromatic spice & herb oils, 3 varieties

Vegan - Gluten Free - Lactose Free

Preparation time: 60 minutes - Difficulty: easy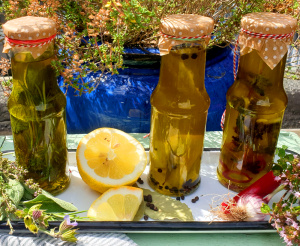 Preparation:
You will need 3 glass bottles with lids (size to your liking) , organic olive oil and possibly wrapping paper, kitchen twine and tags for labeling.

Mixtures:
Lemon Laurel Pepper:
Cut ½ lemon into slices and quarter them.
Add the peppercorns first, then the lemon quarters and bay leaves to the glass bottle, then pour in the olive oil.
Chili garlic wild oregano:
Peel the garlic cloves, cut the chili into fine strips, wash the dost and pat dry well.
Trim any stems that are too long to bottle size, fill the bottle with it, olive oil on top and you're done.
Sage-rosemary-thyme:
You'll need 1-2 stems each of sage, 2 stems rosemary, 5-8 stems thyme for your herb oil bottle. Fill it up with olive oil.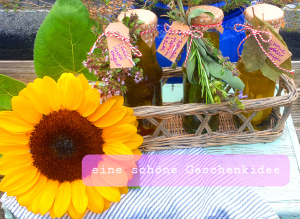 Gift Tip:
For this you need 1-2 stems more per type of spice/herb oil, of course.
You can decorate the lids with nice wrapping paper or baking paper.
Wrapped with kitchen twine, herb bunches and name tags look good.