Asparagus pan with potatoes and moringa curd cheese
Preparation time: 1-1,5h - Difficulty: super easy:)

Ingredients the asparagus for 4 people:
- 2kg fresh asparagus
- 250g strawberries
- 50g toasted sesame seeds
- balsamic vinegar
-
Honey (Bio)
- chilli
- salt and pepper
Ingredients for potatoes and curd:
- 750g potatoes
- 500g cottage cheese
- 1 onion or 1 bunch of spring onions
-
Moringa oleifera
- parsley and chives
- salt and pepper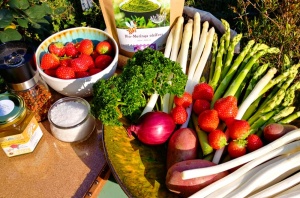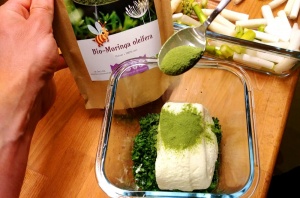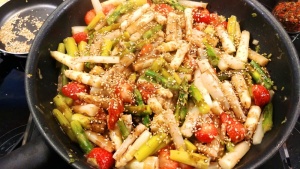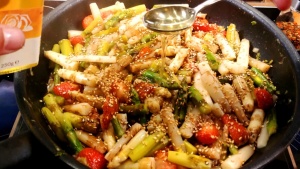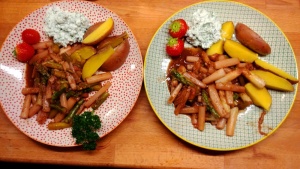 Preparation:
First you peel the asparagus, cut it into 4-5cm long pieces and fry it until it shows a slight browning. Then add the sliced strawberries and continue frying over a low heat until the strawberries and asparagus have softened a little, but still have some bite.
Then add the sesame seeds and season with Honey (Bio), balsamic vinegar, salt, pepper and chilli.
In the meantime, prepare the potatoes and the curd cheese.
You can either cut the potatoes into quarters and boil them or bake them in the oven with a little oil, coarse sea salt and rosemary until crispy. In both cases, the skin can remain on the potato.
Mix the curd with onion, spring onion, parsley and chives to taste and then add a tablespoon of Moringa oleifera. Due to the high content of mustard oils, Moringa oleifera gives the curd a very spicy note.
If you have a garden, you're sure to find some goutweed, which would add a bit of a nutty note to the curd, which goes very well with the toasted sesame seeds in the asparagus.
Then dress and enjoy. :)
We wish you good appetite.