Baked Oats with Aspermils Chia Seeds & Acai Powder
Preparation time: 30 min - Difficulty: easy

Vegan - Gluten Free - Lactose Free
Ingredients for 3-4 servings:
- 2 ripe bananas
- 2 cups rolled oats
- 4 tbsp
chia seeds
- 2 tbsp
acai powder
- 2 cups plant milk
- 2 cups berries (frozen or fresh) or other fruit of your choice
- almond slivers, coconut flakes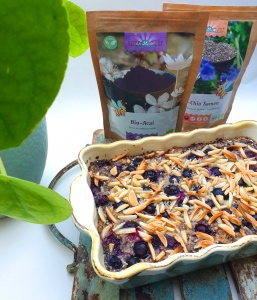 Preparation:
Preheat oven 180 degrees /circulating air
Small baking dish, line with coconut oil.
Peel the bananas and mash them with a fork in the greased baking dish, spread the oats, chia seeds and acai powder evenly over them.
Pour the vegetable milk over it and mix everything well.
Add the berries, sprinkle with the toppings of your choice and bake on the middle shelf in the oven for about 20-25 minutes.
We used almond slivers and coconut flakes as toppings.
TIP: it tastes good with yogurt with honey or ice cream