Baked sweet potatoes & pumpkin halves with mushroom filling
Preparation time: 45 minutes - Difficulty: easy
Ingredients 4 servings:
- 4 large sweet potatoes or 2 smaller Hokkaido squash
- sea salt
- soy sauce
- olive oil
Ingredients Filling
:
- 600 g mushrooms mixed ( eg herb mushrooms, brown mushrooms, chanterelles, porcini mushrooms)
- 2 shallots
- 2 tbsp clarified butter
- freshly ground pepper
- 1 tbsp
rosehip powder
- 1 can kidney beans (125 g drained weight)
- 3 tbsp old balsamic vinegar
- 2 tbsp maple syrup
- 1 tbsp dried
thyme
- 150 g sour cream
- 1 tsp lemon juice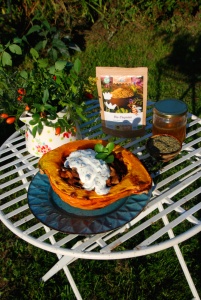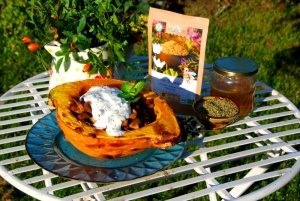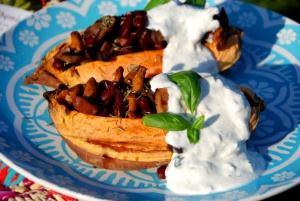 Preparation:
Preheat oven 220 degrees, fan 200 degrees, gas mark 5.
Clean the skin of the potatoes or pumpkins thoroughly with water and pat dry, cut the pumpkins in half lengthways and remove the seeds.
Brush the inside of the squash with soy sauce and brush the outside with oil and sprinkle with salt, likewise brush the potatoes with oil and sprinkle with salt. Place on a baking sheet and bake in a preheated oven for 40 to 50 minutes.
Preparation Stuffing:
Clean the mushrooms and halve or quarter them depending on their size, peel the shallots and cut them into small cubes. Heat the clarified butter in a pan and fry the mushrooms vigorously, stirring occasionally, then add the shallots and fry lightly.
Drain the kidney beans in a sieve with cold water until no more foam appears and drain well. Then add to the mushrooms and season to taste with all the other ingredients.
DIPPE
Mix sour cream and lemon juice
Remove the potatoes and pumpkin halves from the oven, add the mushroom-bean filling and garnish with the dip and thyme.