Brussels sprouts with chestnuts & potato celery puree
Preparation time: 60 minutes - Difficulty: easy
Ingredients for 3-4 servings:
- 600g Brussels sprouts
- 1 shallot
- 2 cloves of garlic
- 2 tbsp butter
- 400 g chestnuts
- salt, pepper, nutmeg, maple syrup, balsamic cream
- 500 g floury potatoes
- 300 g celery
- 2 tbsp butter
- fresh parsley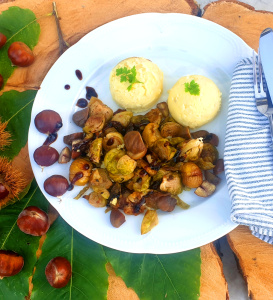 Preparation Brussels sprouts:
Clean, wash and drain the Brussels sprouts and cut the stalk crosswise.
Place Brussels sprouts in boiling salted water for 4-5 minutes, then drain and rinse in cold water (blanch).
Cut the chestnut skin crosswise on the bulbous, strongly curved side with a good kitchen knife and then place in a pot of water, bring to a boil and leave on the hot plate with the lid on for about 5 minutes.
One by one, remove the chestnuts with a spoon and remove the hard skin; the brown skin is best peeled off when the chestnuts are still hot/warm.
Peel and finely dice the shallot and garlic and heat the butter in a pan.
Add Brussels sprouts and peeled chestnuts and sauté over high heat for 2-3 minutes. Add shallot, garlic and fry for 8-10 minutes, stirring occasionally, until golden brown.
Season with salt and pepper and caramelize with maple syrup & balsamic cream.
Preparation Mashed Potatoes:
Peel, wash and quarter potatoes, peel celery and cut into similar sized pieces.
Boil both together in salted water for about 15 minutes.
Drain potatoes and celery and mash with milk and butter and season with salt and nutmeg.
Wash parsley, shake dry and chop coarsely.
Serve the mashed potatoes garnished with parsley with the Brussels sprouts.
Our nut roast tastes delicious with this !