Buckwheat sauerkraut casserole with protein powder

Vegetarian - Gluten Free - *Vegan Option

Preparation time: 60 minutes - Difficulty: easy
Ingredients for 4 servings:
- 400 g fresh sauerkraut
- 1.5 cups buckwheat
- 3 cups vegetable broth
- 2 bay leaves
- 2 tbsp sunflower oil
- 1 apple
- 1 onion
- 125 ml water
- 2 tbsp
hemp protein powder
or
pumpkin protein
- 1 tbsp butter or oil
- some fleur de sel
- 200 g crème fraiche, *simply
- 2 tbsp whole wheat flour
- spices/herbs: Marjoram, parsley, sage and pepper
- 2 tbsp. sesame seeds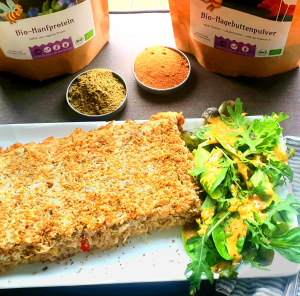 Preparation:
Drain the sauerkraut in a kitchen strainer and cut a few times with a knife.
Bring the vegetable broth with bay leaves to a boil in a pot, sprinkle in the buckwheat, bring to a boil and let it swell for 30 min on the lowest setting.
Cut the onion and apple into small cubes, heat the sunflower oil in another pot and sauté both for about 4 minutes.
Add the sauerkraut and hemp protein powder, pour in the water and continue to steam for 10 minutes.
Grease a baking dish with butter, mix the cabbage with the ready buckwheat, add a little salt and fill it in.
Mix the crème fraiche with wholemeal flour and spices and pour over the casserole, sprinkle with sesame seeds and bake for about 30 minutes on the middle shelf.
Goes well with our millet meatballs, yum. :)