Chard roulades with Mediterranean bulgur filling and fruity tomato sauce

Vegan - vegetarian option with feta cheese

Preparation time: 45 minutes - Difficulty: easy
Ingredients for 4 servings:
- 120 g bulgur
- salt, pepper
- 2 spring onions
- 1 red pepper
- 1 garlic clove
- 250g tomatoes
- 50 g black olives without stone
- 700 g chard
- 2 onions
- 4 tbsp olive oil
- 2 tbsp paprika - tomato paste
- 0,5 tsp ground cumin
- 1 tbsp
thyme
- 1 can chunky tomatoes (425 ml)
- 200 ml vegetable broth
- 2 tsp
Honey (Bio)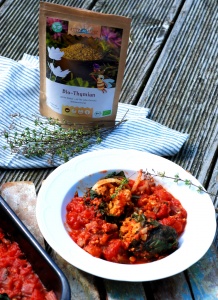 Preparation Bulgur:
Cook bulgur in salted water for about 10 minutes.
In the meantime, clean, wash and finely chop the spring onions, remove the seeds from the peppers, wash and chop them, finely dice the olives and tomatoes.
Then drain bulgur, rinse and drain and mix with prepared ingredients, season with thyme, salt, pepper.
Wash the chard leaves, cut off the stem and thick stalk and cut them into fine cubes and set aside.
Blanch the large leaves in hot salted water for 3 minutes, rinse with cold water and pat dry.
Then stuff chard leaves in portions with bulgur mixture and wrap into roulades.
Preparation of sauce:
Sauté chopped garlic and diced onion in hot olive oil, add paprika-tomato paste, cumin, thyme, chopped tomatoes, diced chard stalks and continue to sauté well, pour broth and season with salt, pepper and honey.
Put the roulades on the sauce and cook covered for 15 to 20 minutes, turning once.