Creamy cauliflower soup with mushrooms, peas & pumpkin protein chowder

Vegan* - Gluten-free - Lactose-free

Preparation time: 60 minutes - Difficulty: easy
Ingredients for 4 servings:
- 1 medium cauliflower
- 1 shallot
- 1 clove of garlic
- 50 ml olive oil
- 900 ml water
- 100 ml whipping cream or *plant sour cream
- Fleur de Sel and ground pepper
- 1 organic lemon, zest and juice
- 5 sprigs thyme or 1 tbsp dried
- chowder:
- 200g peas
- 20 g dried wild mushrooms (chanterelles,porcini)
- approx 2 tbsp
pumpkin protein powder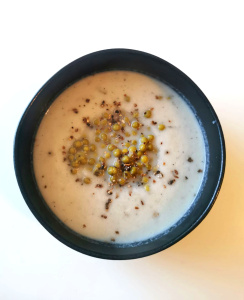 Preparation:
Remove the outer leaves of the cauliflower, use the inner fine leaves with and rinse the head of cabbage under running water.
Cut the cauliflower into larger pieces and place them in a bowl.
Slowly heat half of the olive oil in a pot, add peeled and finely chopped shallot and garlic and sweat them briefly over medium heat.
Now add the cauliflower and sweat it for another 3-4 minutes as well.
Pluck the leaves from the thyme and set aside, add the stems to the cauliflower and deglaze with water.
Season with salt and pepper, bring to a boil and cook for about 10-15 minutes so that the cauliflower is not overcooked.
Now add the cream and after another 2 minutes of simmering remove the pot from the heat.
Wash the organic lemon, grate the peel and squeeze the juice.
Puree the soup with a hand blender until smooth and season with lemon juice, fleur de sel & pepper and heat again.
Chowder:
Scoop out the peas, chop with a knife and place in a bowl.
Finely grind the mushrooms in a mortar and mix into the peas along with the pumpkin powder.
Portion the cauliflower soup into bowls, add the chowder and top with the remaining olive oil.
We recommend our delicious super seed bread with it.