Easter plait with aspermills maca & acerola powder

Vegan option - Lactose free

Preparation time: 60 minutes - Difficulty: easy
Ingredients Dough:
- 275 ml vegetable drink or milk
- 100 g vegetable margarine or butter
- 1 cube fresh organic yeast ( 42g)
- 100 g sugar
- 3 tbsp
Maca Powder (Bio)
- 2 tbsp
acerola powder
- 500 g spelt flour type 630
- 1 pinch sea salt
- pith of half a vanilla bean
- 1 tbsp lemon zest organic
- fireproof bowl with water
Additionally:
-spelt flour for kneading & for the work surface
- 1-2 tbsp vegetable drink for coating
- sprinkle as desired, we took chopped almonds,
- hail sugar, chopped pistachios, sliced almonds,
Bee Pollen (Bio)
are also prima
- season to taste with salt, pepper, nutmeg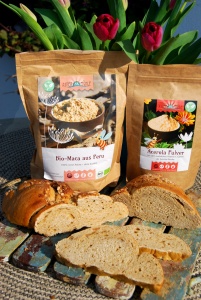 Preparation:
Gently heat the vegetable milk in a saucepan over low heat, add margarine or butter in pieces and stir until melted.
Let it cool down (about 30-40°C) and then add the yeast and sprinkle with 1 tablespoon of sugar.
Let stand until the yeast dissolves and becomes slightly foamy.
Put all other dry ingredients in a bowl and mix well with vanilla pulp and lemon zest.
Now add the yeast milk and knead all the ingredients with the dough hook of the kitchen mixer or by hand to form an elastic dough.
This takes a little patience and is ready when the dough easily separates from the sides of the bowl.
Cover the bowl with a damp kitchen towel and let the dough rise in a warm place for at least 60 minutes until it has doubled in volume.
After the rising time, knead the dough again on a floured work surface and do not add too much flour.
Now divide the dough into 3 equal pieces and roll each into strands about 50 cm long.
Place the strands side by side on a lightly floured work surface, lightly press the top ends together to make a nice braid and again press the ends tightly.
Place the braid on a baking sheet lined with parchment paper and let rise, covered, for another 30 min. Before baking, brush with remaining vegetable milk and sprinkle with almonds.
Bake at 160 °C convection oven, place an ovenproof dish with water on the bottom of the oven:
Bake in the preheated oven on the middle shelf for about 30 minutes.
Check the cooking, if necessary cover with baking paper.
Then let cool on a cooling rack.