Energy bar with dates, hemp protein,chia seeds & goji berries

Vegan - Lactose-free - Gluten-free

Preparation time: 45 minutes - Difficulty: easy
Ingredients for approx. 14-16 bars:
- 30 g amaranth pops
- 40 g virgin coconut oil
- 150 pitted dates
- 30 g
hemp protein/
pumpkin
seed protein
- 40 g freshly ground linseed
- 50 g cashews
- 50 g almonds
- 2 tbsp.
chia seeds
- 20 g cocoa nibs
- 20 g
Goji Berries
- baking dish 20 x 20 cm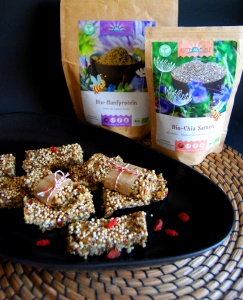 Preparation:
Pit dates and soak in hot water.
Chop cashews and almonds either with a knife or in a food processor until medium fine. (the smaller the pieces, the better the bars can be cut later, it just shouldn't be finely ground).
Finely grind the linseed
Melt coconut oil in a saucepan over low heat until liquid, date paste without water and all other ingredients -except Amarathpops- now mix well together in the saucepan with the coconut oil.
Line the baking dish with cling film or baking paper and spread the mixture evenly in it, spread the amaranth pops on top and press everything down well so that the bars hold together later.
Place in the refrigerator for at least 1 hour and later cut into strips of desired size.
Tip:
The energy bars will keep in the refrigerator in a sealed container for about 1 week.
If they get too warm, they crumble apart easily.