Goji berries oat cookies with maca powder
Preparation time: 45 minutes - Difficulty: easy
Ingredients:
- 250 g spelt flour type 630
- 100 g rolled oats
- 2 tbsp.
Maca Powder (Bio)
- 170 g raw cane sugar
- 1 tsp. baking powder
- 1 Msp. vanilla freshly ground
- 1 pinch fleur de sel
- ½ organic orange, zest
- 180 g vegan butter, room warm
- 60 g
Goji Berries
- 2 tbsp. vegetable drink
- 30 g macadamia nuts, chopped
- sprinkle: 60 g pistachios, chopped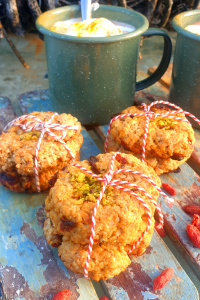 Preparation:
In a mixing bowl, combine flour, rolled oats, sugar, maca powder, baking powder, vanilla and salt.
Add orange zest, butter and vegetable drink and knead with the dough hook of the mixer or by hand.
Incorporate goji berries and nuts, form into a dough and using an ice cream scoop or spoon, transfer dough to a baking sheet lined with parchment paper and flatten slightly.
Bake in the preheated oven for 10-12 min.
This tastes great with our turmeric chocolate!