Golden Quinoa Bowl with dates and turmeric
Preparation time: 15 minutes/ cooking time 20 minutes - Difficulty: easy


Ingredients:
- 1/2 red onion
- 1 clove of garlic
- 1 carrot,
- organic orange (1 tsp peel & 2 tbsp juice)
- 150 g Quinoa Tricolore
- 4 dates without seeds
- 2 tsp virgin coconut oil
- 1 tsp cumin
- 1/2 tsp turmeric
- approx. 300 ml vegetable stock
- 2 tbsp roasted pistachios or almonds
- 2 stalks mint
- sesame oil for topping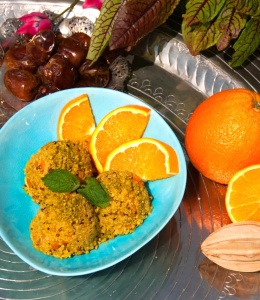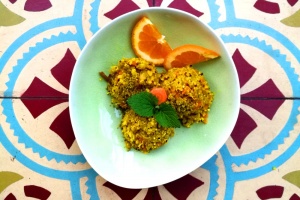 Preparation:
Peel onions & garlic and chop finely, heat coconut oil sauté onions in it add garlic cumin and turmeric sauté everything together so the aroma of the spices unfolds particularly well.
In the meantime, wash and dice the carrots, grate the orange peel and squeeze the remaining orange, rinse the quinoa well and chop the dates.
Now add the carrot cubes and sauté briefly, then add the quinoa and dates and deglaze with the vegetable stock. Bring to the boil, then reduce the heat and simmer for about 12 to 14 minutes.
Chop the pistachios or almonds and pluck the fresh mint leaves, sprinkle the finished quinoa with fresh orange juice and sesame oil, portion into bowls and garnish with fresh mint and chopped pistachios or almonds.