Green Dessert with Barley Grass Powder & Chia
Preparation time: 45 min - Difficulty: easy

Vegan - Lactose-free - Gluten-free

Ingredients for 2 servings:
- 100 g baby spinach
- 1 ripe banana
- 2 tbsp almond paste white
- 1 tbsp barley
grass powder
or
barley grass juice
powder
- 20 g
chia seeds
- 80 g whole grain oat flakes
- 1 Msp vanilla ground
- 200 ml almond drink or other
Topping:
- 50 g fresh fruit, here strawberries
- 2 tbsp grated coconut
- 2 tbsp toasted almond slivers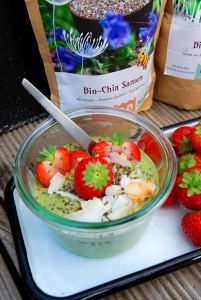 Preparation:
Sort the leaf spinach, wash, spin dry and remove coarse stems.

Remove the skin from the banana and finely puree both together with the almond paste, chia seeds, barley grass powder, almond drink and vanilla in a stand mixer and stir in the oat flakes.
Divide the mixture between 2 dessert bowls or 2 glasses, clean the strawberries, add and garnish with the toppings.