Guarana tiramisu with rhubarb & strawberries
Preparation time: 45 minutes - Difficulty: easy
Ingredients for 6-8 nice dessert glasses:
- 500 g low-fat quark
- 500 g mascarpone
- pinch of salt
- 160 g sugar
- 2 tbsp
Guarana
- 120 ml orange juice
- 8-12 Oreo cookies
- 2 packets vanilla sugar &
- 100 g rhubarb fresh
- 100 g
Aspermühlen rhubarb
- 4 tbsp pistachio nuts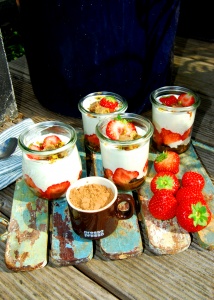 Preparation:
Clean strawberries & rhubarb well, cut off leaves and greenery, pull off coarse threads and dice the rhubarb stalks.
Slice strawberries lengthwise into thin slices. Set aside a small portion of the strawberries and candied rhubarb for decoration.
Caramelize 50 g sugar in a small saucepan. Add the larger part of the strawberries and the rhubarb to the sugar and let it boil down for a few minutes.
Then let the fruit compote cool down and put it in a cold place.
Now mix the guarana powder well with the orange juice so that there are no lumps, place the Oreo cookies one at a time in the dessert glasses and drizzle with the juice.
Arrange the strawberry slices, point side up, around the rim of the glass.
In a bowl, mix the low-fat curd cheese, mascarpone, vanilla sugar, pinch of salt and sugar until creamy, carefully fill the glasses with the finished cream, pour the fruit compote evenly over it and leave to infuse in the refrigerator for a midesteten 3-4.
Before serving, garnish with the dried rhubarb pieces and chopped pistachio nuts.