Holler pudding with rhubarb & strawberries- 3 that get along well ;-)
Preparation time: 60 min - Difficulty: easy

Ingredients for 2-3 servings:
- 500 ml oat drink
- 20-30 elderflowers
- pinch of salt
- 1 package vanilla pudding powder
- 30 g raw cane sugar
- 250 g fresh strawberries
- 400 g fresh rhubarb
- 100 g
Aspermühlen rhubarb
- 80 g
Honey (Bio)
- 4 tbsp water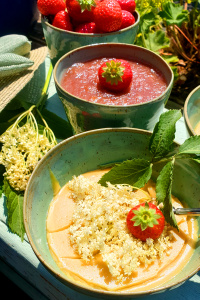 The elderberry (Sambucus Nigra),from mid-May to June it is in full bloom in the gardens and at the edge of the forest.
Collect the flowers best in sunny weather around noon, then they have the fullest pollen and are particularly aromatic.
If you have it in your garden, ask if you can pick the blossoms-because the Holla-Hex is a protective tree for house and yard and wants to be asked before you pick the blossoms ;-)
For the recipe you need about 20 to 30 blossoms, which you collect the day before and free from small inhabitants by gently shaking them.
Please do not wash your blossoms, it will take away the wonderful aroma.
Put them in a bowl, pour the plant milk over them and leave it covered overnight.
Preparation of elderberry pudding:
Pour the elderberry milk through a strainer into a saucepan and squeeze the flowers well.
You can also add some and boil with a pinch of salt.
Take 4-6 tablespoons of the still cold milk and put it with the sugar & pudding powder in a screw jar and shake well.
When the milk comes to a boil, remove the saucepan from the heat and whisk in the mixture.
Bring to a boil again, stirring constantly, and pour in batches into dessert bowls to cool.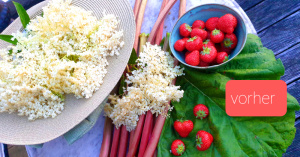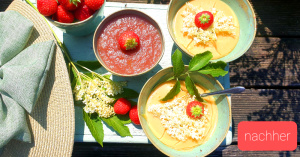 Preparation of rhubarb compote:
Wash the rhubarb well, cut off leaves and ends, pull off coarse threads and cut the stalks into pieces about 2 cm wide.
Mix them with honey in a bowl and let them stand for about 30 minutes.
Put the rhubarb aside, it will be added after cooking.
Simmer the rhubarb in a saucepan on medium heat for about 8 minutes, stirring constantly and pressing the pieces with a fork.
Add the dried rhubarb pieces about 3 minutes before the end.

Spread the rhubarb compote on the small bowls with the vanilla pudding and top with fresh strawberries, hmmm a summer dream !