Lentil sweet potato dal with turmeric and lamb's lettuce

Vegan - Gluten Free - Lactose Free

Preparation time: 45 minutes - Difficulty: easy
Ingredients for 2 servings:
- 3 medium sweet potatoes
- 2 onions
- 2 garlic cloves
- 120g red lentils
- 2 handfuls fresh baby spinach
- 2 heaped tablespoons tomato paste
- 1 can coconut milk
- 1 tablespoon virgin coconut oil
- 1 tablespoon curry
- 1 tablespoon
turmeric
- 250 ml vegetable broth
- 1 teaspoon ground cumin
- 1 pinch cinnamon
- 4 cardamon capsules
- 1 teaspoon fleur de sel
- colorful pepper freshly ground
- sesame seeds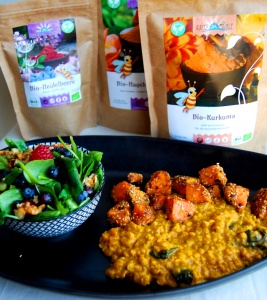 Preparation:
Peel sweet potatoes and cut into cubes ( cook amount of 1 sweet potato separately in a pot with water for about 20 min).
Sauté the remaining cubes together with finely chopped onions, garlic and coconut oil in a pot.
Add tomato paste & spices and sauté briefly.
Add coconut milk and broth and simmer on low heat for about 10 minutes.
Next add the lentils and simmer for another 15 min, then fold in the washed spinach leaves and cook for another 5 min.
Meanwhile, fry the cubes of sweet potato cooked separately in a pan with hot coconut oil and sprinkle with sesame seeds, turning frequently until crispy.
Season the lentil dal to taste, arrange on a plate and garnish with sesame potato cubes.
Our lamb's lettuce with blueberry dressing tastes great with this.