Mango Korma with dates and turmeric
Preparation time: 45 minutes - Degree of difficulty: easy
Ingredients:
- 2-3 onions
- tbsp ghee (or coconut oil)
- 3-4 cloves garlic
- 3 tbsp fresh ginger
- ½ tsp chili powder
- 2 tsp ground coriander
- 1 tsp
turmeric
- 1 ½ tsp garam masala
- 2 tsp cardamom (approx. 5 seeds)
- pepper or alternatively: 2 tbsp curry powder mix
- 400 ml coconut milk
- 2 tbsp almond flour/ground almonds
- 2 ripe mangoes
- salt, lemon juice
-
dates
to taste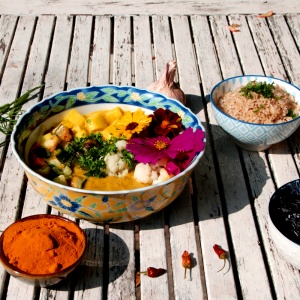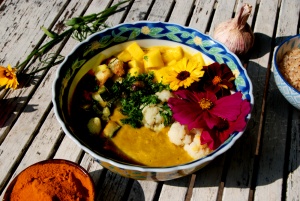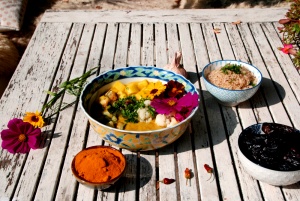 Preparation:
Chop onions and saute in a pot of ghee/coconut oil. Do not allow to brown for a fresh yellow colour.
Cut garlic and ginger and add. Saute for 10 min.
Grind cardamom in a mortar. Add all the spices in the pot and saute for another 5-10 min.
Stir in coconut milk, almond flour and the softer half of the mango and puree.
This base is great to prepare the day before or store.
Just before serving, add the remaining mango in cubes and reheat.
Season with salt and lemon juice to taste.