Polenta with crispy sage chips & pumpkin seed powder

Vegan - Lactose-free - Gluten-free

Preparation time: 60 minutes - Difficulty: easy
Ingredients for 3-4 servings:
- 250 g instant corn polenta
- 1 onion or shallot
- 200 g fresh spinach
- 100 g mixed herbs ( eg. basil, parsley, nettle, sorrel, oregano)
- 2 tbsp
pumpkin seed powder
- 1 l vegetable broth
- sea salt
- 5 tbsp olive oil
- black pepper, freshly ground
- fleur de sel
- 1 tsp coriander seeds
- 1 bunch
sage
or 80 dried leaves
- 2 tsp mustard seeds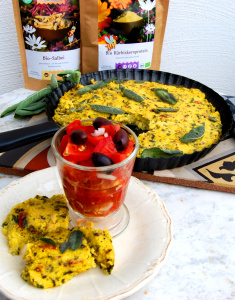 Preparation:
Preheat oven to 200° or convection 180°, grease quiche dish.
You can of course vary the size of the pan for baking your polenta; the larger, the more crispy surface, the smaller, the fluffier.
Wash the spinach and herbs (except for the sage) and shake dry, then pluck off the leaves and roughly chop them with a chopping knife.
Finely dice the peeled onion. In a medium saucepan, bring the vegetable broth to a boil, salt well, then stir in the polenta and the caraway seed powder with a whisk, cover and leave to swell over low heat for 10 min.
In the meantime, heat the olive oil in a non-stick pan and sauté the diced onion until translucent, add the spinach and herbs and let it all collapse over low heat.
Season the mixture with fleur de sel & ground pepper and fold into the polenta.
Pour the polenta mixture into the quiche dish and bake in the oven on the middle rack for about 20 min, until it gets a nice golden crust on top.
Now wash the fresh sage and pat dry well in a clean towel and pluck the leaves from the stems.
Coarsely crush the coriander seeds and add the remaining 4 tablespoons of olive oil to the clean pan, heat and fry the sage leaves in it over medium heat until crispy chips.
Drain the sage chips on paper towels, meanwhile add the coriander and mustard seeds to the oil and let them steep briefly.
Spread everything on the finished polenta cake and let it cool down a bit before cutting.
We recommend a delicious salad to go with it, here made from our freshly harvested garden tomatoes. Hmmm :)