Quince applesauce with maple syrup & cinnamon
Preparation time: 90 min - Difficulty: easy

Ingredients for 3 glasses 250g each:
- 700 g
quinces
(peeled and seeded)
- 1 lemon
- 400 g apples, e.g. Elstar (peeled and seeded)
- 200 ml apple juice naturally cloudy
- 3 tbsp. maple syrup
- ground cinnamon
- possibly ground vanilla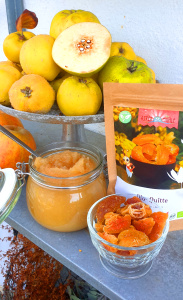 Preparation:
Remove the fur from quinces dry with a vegetable brush, wash and peel with apples, cut into eighths and core.
Cut both fruits into rough cubes and put each in a bowl with water & the lemon juice.
Steam the quinces with some lemon water and apple juice in a saucepan over medium heat for 10 minutes, then add the apples and spices and continue to simmer together for about 15 minutes.
Stir in between until everything is cooked soft.
In the meantime, prepare the jars: Rinse jars and lids with boiling water and drain on a clean kitchen towel.
Pour in equal parts of the finished quince-applesauce and seal the jars directly. You don't need to turn them upside down.
Tastes great with our ribbon noodles with cauliflower and Jerusalem artichokes, pancakes, as a dessert with cream or pure !
Of course you can also eat our dried quinces directly !