Seed crackers mediterranean with rosemary, thyme & chia

Vegan - Lactose-free - Gluten-free

Preparation time: 60 minutes - Difficulty: easy
Ingredients for one tray, about 45- 50 pieces:
- 160 g sunflower seeds
- 30 g pine nuts
- 150 g chickpea flour
- 80 g hulled hemp seeds
- 80 g flax seeds
- 20 g
chia
seeds
- 1 tsp cumin seeds
- salt, pepper
- 1 tsp
dried aspermilla rosemary
- 1 tsp
dried aspermilla thyme
- 1 tsp sweet paprika
- 8 tbsp olive oil
- 300 ml water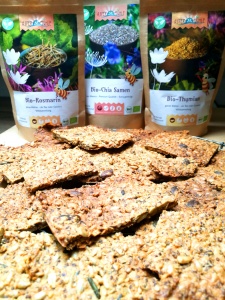 Preparation:
Preheat oven to 175 degrees convection and line a baking sheet with baking paper.
Roughly chop the sunflower & pine nuts and mix them with chickpea flour, hemp, chia & flax seeds, spices and dried herbs in a bowl.
Add olive oil and water and mix everything together with a hand mixer to form a dough.
Spread the batter on the baking sheet and spread it evenly thin with the help of a pastry scraper or cake lifter.
Bake on middle rack for 10, then remove from oven briefly and cut the pastry sheet into squares (approx. 5 x 5 cm).
Then bake for another 20 min until the crackers are golden brown and crispy.
Team tip: Very tasty with our tofu cream or date sheep cheese spread!