Seed crackers mediterranean with rosemary, thyme & chia

Vegan - Lactose-free - Gluten-free

Preparation time: 60 minutes - Difficulty: easy
Ingredients for one tray, about 45- 50 pieces:
- 160 g sunflower seeds
- 30 g pine nuts
- 150 g chickpea flour
- 80 g hulled hemp seeds
- 80 g flax seeds
- 20 g
chia
seeds
- 1 tsp cumin seeds
- salt, pepper
- 1 tsp
dried aspermilla rosemary
- 1 tsp
dried aspermilla thyme
- 1 tsp sweet paprika
- 4 tbsp olive oil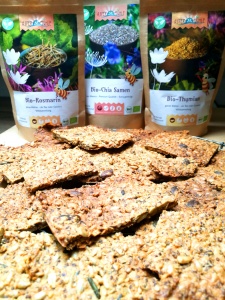 Preparation:
Fruits:
Soak goji berries in a glass of orange juice for at least 1 hr - better overnight.
Peel apples, grate on a kitchen grater and weigh 400g.
Peel, core, weigh and dice pears into small pieces.

Dough:
Mix flour with all other dry ingredients in a mixing bowl, add the fresh fruit and goji's with juice and mix vigorously until homogeneous dough.
Grease the baking pan or line it with baking paper and spread the dough evenly in it.
Bake:
Bake in the preheated oven on the lowest shelf for approx. 60-75 min. and check if the bread is done.
Let the fruit loaf cool in the pan for another 10 minutes, then remove from the pan/paper, carefully turn out onto a cooling rack and let cool.