Small tarte flambée with gooseberries
Preparation time: 60 minutes - Difficulty: easy
Ingredients for 8 pieces:
- 300 g spelt flour type 650 + something to roll out
- 10 g fresh yeast
- some sugar & salt
- 150 g sour cream
- 1 -2 tbsp medium hot mustard
- ½ tsp herbs de Provence
- 300 g gooseberries red & green
- 100 g
dried gooseberries
- colorful pepper freshly ground
- fresh arugula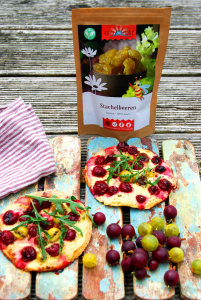 Preparation:
For the dough, crumble the yeast in 1/8 l warm water, add ½ tsp sugar and stir until the yeast has dissolved. Let rest for approx. 5 min.
Put 300 g flour and ¼ tsp salt in a bowl, add the yeast water and mix with the dough hook of the kitchen mixer until a smooth dough.
Cover and let rise in a warm place for about 1 hour, until the dough has doubled in volume.
For the cream, mix sour cream with mustard and season with herbs de Provence and salt.
Wash and clean the gooseberries.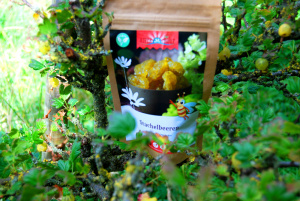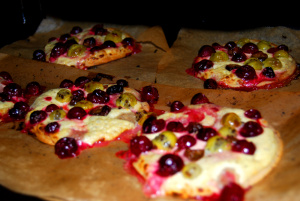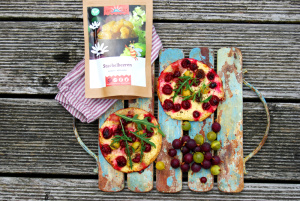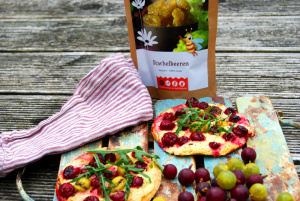 Preheat the oven to 200 degrees convection and line 2 baking sheets with baking paper.
Roll out the dough on a floured work surface, cut out 8 dough circles with a round bowl about 20 cm in diameter, spread them on the baking tray, spread a thin layer of cream and cover each with fresh and dried gooseberries.
Then pepper and bake on the middle shelf for about 10-12 minutes until crispy.
In the meantime, sort out the fresh arugula, wash and dry it, top the Flammeküchlein with it and serve.