Swiss chard zucchini lasagna with pumpkin seed protein and rosemary
Preparation time: 40min - Difficulty: easy
Ingredients for 4 persons
- 300 g chard
- 1 zucchini
- 1 onion
- 3 cloves garlic
- 1 tbsp olive oil
- 1 tbsp
pumpkin seed protein
- 1 tsp
rosemary
- 2 tbsp tomato paste
- 100 ml vegetable stock
- 2 tbsp butter
- 2 tbsp flour
- 250ml milk
- 300 g lasagne sheets
- 50 g parmesan
- 100 g cheese (butter cheese)
- salt, pepper and nutmeg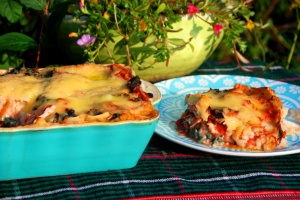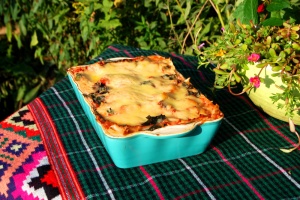 Preparation:
Remove the stems from the chard. Put the chard leaves aside for the time being.
Dice the onions, chard stems and zucchini. Crush the garlic cloves.
Heat the olive oil in a pan. Sauté the onions, garlic and rosemary briefly, then add the remaining vegetables.
After frying for about 2 min, add tomato paste to the vegetables and cook for another 5 min. Season with salt and pepper and deglaze with the vegetable stock.
In the meantime prepare a béchamel sauce with butter, flour and milk.
To do this, briefly heat the butter in a saucepan, stir in the flour and deglaze with the milk and bring to the boil. Season with pumpkin seed protein, salt, pepper and nutmeg.
In a buttered baking dish first spread some of the cooked vegetables.
Lay the first layer of lasagne on top. Dip the lasagne sheets into a pot of hot water just before laying them out.
Put chard leaves, a few spoonfuls of vegetables and some béchamel sauce on top.
Then another layer of lasagne sheets, vegetables and béchamel sauce. Like this, layer by layer, fill the dish.
Finally, grate the cheese and sprinkle it over the lasagne.
Cook the casserole dish in the preheated oven (200°C top/bottom heat) for approx. 45 minutes.