Vegetable lasagna with kale bechamel

Vegan option - Lactose free

Preparation time: 60 minutes - Difficulty: easy
Ingredients 3-4 servings:
- lasagna dish 17 x 26 cm
- 2 tbsp oil to coat
- approx 10 whole wheat lasagna sheets
- 2-3 garlic cloves
- 2 onions
- 0.5 chili pepper red
- 3 tbsp oil
- 2 carrots
- 1 small piece of celeriac
- 1 package veggie mince
- 2 cans cocktail tomatoes
- 2 tbsp tomato paste
- 1 tbsp soy sauce
- spices to taste: Salt, black bell pepper,cayenne, paprika,
rosemary needles
finely chopped
- Grated cheese or vegan option
Ingredients Kale Bechamel Sauce:
- 2 tbsp Alsan margarine
- 400 g vegetable drink
- about 1 tbsp flour
- 2 tbsp kale
powder
- season to taste with salt, pepper, nutmeg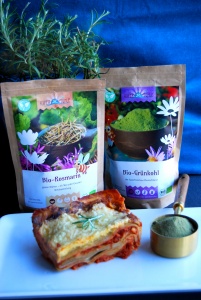 Preparation:
Finely chop garlic, onions and chili.
Clean or peel carrots and celery and finely dice or grate.
Heat oil in a pot and fry everything together with the veggie mince, add tomato paste, soy sauce and canned tomatoes, season everything with spices and simmer gently for about 15-20.
Bechamel sauce:
In a second saucepan, melt the margarine over medium heat, add flour and sweat in it until light, stirring constantly.
Pour vegetable drink on top, add kale powder and stir well until smooth, heating slowly until the sauce comes to a gentle simmer. Continue to simmer gently like this for about 5 min. Stir in grated cheese.
Brush the lasagna dish with 2 tbsp oil, line with pasta sheets and alternate layers with the veggie sauce. Finally, pour 1 layer of lasagna sheets with béchamel sauce.
Cook in the preheated oven at 180 degrees (convection oven 160 degrees) for about 40 minutes.