Chia bread with barley grass Preparation time: 15 minutes • Difficulty level: easy • Baking and resting time: Approx. 2.5 hours
Ingredients:

• 300 g of wheat flour
• 1 heaped tbsp barley grass (organic) (alternatively 1tbsp organic spirulina)
• 20 ml maple syrup
• 10 g margarine
• 25 g chia seeds (organic)
• 1 pkt dry yeast (approx. 7 g)
• 1 level tsp salt
• 180 ml of lukewarm water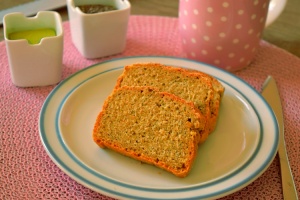 Preparation:
Preheat the oven to 50 ° C.
Put the flour with the barley grass, the chia seeds and the dry yeast in a bowl and mix together.
Then slowly add the water and stir the mixture.
Then knead them into a smooth dough and finally knead the margarine and maple syrup together.
Now turn off the oven and place the bowl with the dough, covered with a kitchen towel, in the oven for about 45 minutes.
The dough increases in size during this time and must then be kneaded again and placed together with baking paper in a box form.
Let it rest again in a warm place (e.g. on the heater) for about 45 minutes.
Then preheat the oven to 190 ° C (circulating air; top and bottom heat 210 ° C) and bake the bread in the box form for 20-25 minutes.

Tip:

You can also add sunflower or pumpkin seeds to taste.
However, this should only be done during the "second kneading", otherwise the seeds will draw water and thereby the bread could become dry.

In our guide you will find a lot of information about barley grass. >>>

In our shop you will find organic barley grass also in the form of pellets.
In our blog and recipe area you will find further exciting information and recipes.