Melon and tomato salad with wheatgrass dressing
Preparation time: 15 minutes - Difficulty: easy - Serves 2


Ingredients:
- 200 g galia melon
- 200 g tomatoes
- a few stalks of white asparagus
- 50 g corn
- 1 tbsp. hemp or olive oil
- 1 gestr. tsp.
wheat grass powder (Bio)
- salt, pepper, sugar
- 1 tbsp. yeast flakes
- 1 tbsp. balsamic vinegar
- 1 tbsp. mustard
- a few basil leaves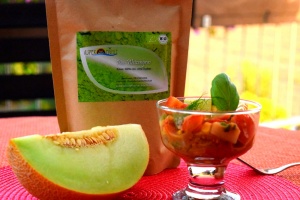 Preparation:
Cut the melon, asparagus and tomato into small pieces and place in a bowl with the corn. Put all the other ingredients for the dressing in a small bowl and mix well with a whisk. Finally, fold the dressing into the salad and the refreshing salad is ready.

Tip:
For all cheese lovers: sheep's cheese or goat's cheese taste great in this salad and give it a tangy note. The type of melon can also vary. Red watermelon is enebso suitable for this delicacy.