Baked apples with nut maca filling & vanilla acerola sauce
Preparation time: 75 min - Difficulty: easy

Ingredients for 4 baked apples:
- 4 sweet and sour big apples, best Boskop or Cox Orange
- 2 tsp coconut oil
- 8 tbsp mixed nuts (here wal & hazelnut kernels)
- some lemon juice squeezed
- 1 orange squeezed
- 2 tbsp
goji berries
(some for topping)
- 2 tbsp tiger nut flour (chufas)
- 2 tbsp almond paste
- 2 tbsp
Maca Powder (Bio)
- 1 tbsp maple syrup or other sweetener
- 1 tsp cinnamon
Ingredients for the vanilla acerola sauce:
- 250 ml vegetable drink of choice- we took almond
- 10 g vanilla custard powder (possibly more, depending on the desired consistency of the sauce)
- 1 pinch fleur de sel
- 1 tsp
acerola powder
( gives the nice color)
- 1 tbsp maple syrup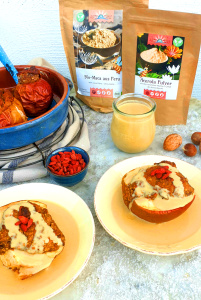 Preparation for 4 baked apples:
Preheat the oven to 180 degrees convection.
Squeeze the orange and soak the goji berries in it during further preparation. Leave a few berries aside for decoration.
Wash the apples, dry them and cut out the cores with a fruit knife. Cut the apples in half or put them whole into a baking dish coated with coconut oil.
Drizzle the apple halves with the lemon juice. Using a multihacker, coarsely grind the nuts and add all the other ingredients, including the goji berries with the orange juice and mix everything well.
Now fill the apples with the nut mixture and bake on the middle shelf for about 25-30 minutes.
Preparation of sauce:
Put 4 tbsp of the vegetable drink with custard & acerola powder in a jar and shake well, boil the remaining drink in a small saucepan, remove from hot plate and whisk in custard mix, salt and maple syrup.
Now gently simmer the custard over low heat, stirring constantly, for about 2 min until desired consistency is reached.
Finally, arrange the apples, pour the custard over them and top with goji berries.