Millet apple nut breakfast with goji berries, honey & flower pollen
Preparation time: 10 min - Difficulty: easy
Vegan - gluten-free - lactose-free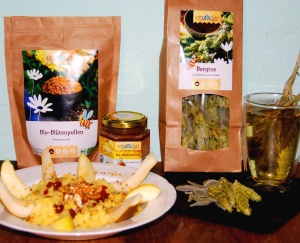 Preparation:
Rinse millet thoroughly in a fine sieve and place in a saucepan with vegetable milk, add pinch of salt and cinnamon and bring to the boil
Wash each apple and pear, cut out the core and cut into any pieces, including the peel.
Roast the walnuts in a pan without fat and let them cool down, then arrange the cooked millet in a plate, spread the fruit on it, decorate with Goji Berries and nuts, 1 teaspoon of Honey-Nut-Puree (Bio) on top and sprinkle with Bee Pollen (Bio).
TIP: Greek mountain teatastes great with this
Prepare according to package instructions!