Pumpkin seed croissant with pumpkin protein powder & flower pollen
Preparation time: 60 minutes - Difficulty: easy
Ingredients for approx. 60-70 Kipferl:
- 275 g spelt flour type 630
- 50 g ground pumpkin seeds
- 50 g
pumpkin seed protein
- 90 g powdered sugar
- ½ vanilla pod, of it the mark
- 1 pinch Fleur de Sel
- 180 g cold butter, in pieces
- 2 egg yolks
- 5 tablespoons pumpkin seed oil
- 100 g dark couverture
- some flour for working
- Bestreu:
Bee Pollen (Bio)
, powdered sugar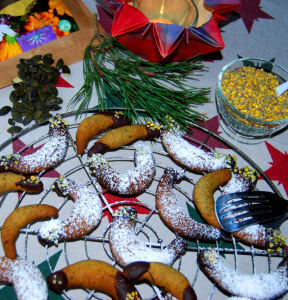 Preparation:
In a mixing bowl, knead ground pumpkin seeds, flour, pumpkin protein, powdered sugar, vanilla pulp, butter, egg yolks, oil and salt into a smooth dough and let rest covered in the refrigerator for 3 hours.
Form two equal-sized rolls from the dough, cut the rolls into slices about 60-70 thick and form croissants about 6 cm long on a floured surface. The ends should be pointed.
Preheat the oven to 180 degrees.
Place the shaped croissants on a baking tray lined with baking paper and bake in the preheated oven for approx. 11 minutes, remove from the oven and leave to cool on a rack.
Melt the chocolate coating in a bain-marie according to the instructions on the packet and dip the croissant tips into the liquid chocolate, place on a sheet of baking paper, sprinkle with flower pollen and leave to dry.
Serve with our hot drinks. e.g. Hot Turmeric Chocolate or Tanzanian Tea Punch!