Spicy millet patty with hemp protein and kale
Preparation time: 25 min - Degree of difficulty: easy
Ingredients:
- 250g millet
- 2 onions
- 2 garlic cloves
- 750 ml vegetable stock
- salt, pepper to taste
- 2 tbsp
hemp protein
- 2 tbsp
kale powder
- 2 carrots, finely grated
- fresh herbs as required - parsley here
- 2 eggs
- 200 g grated cheese
- approx. 6 tbsp breadcrumbs mixed with 2 tbsp sesame
- oil for frying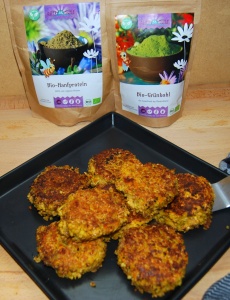 Preparation:
Millet:
Briefly rinse millet in a fine sieve and drain, peel onions and garlic and cut into very fine cubes, heat up some oil and sauté, add millet and sauté briefly.
Deglaze with vegetable stock, bring to the boil and simmer gently for approx 15 mins with the lid closed.
Season to taste with salt and pepper and leave to swell for approx. 20 min. on the switched-off hotplate.

Vegetables:
Peel or wash the carrots thinly and grate finely, rinse the parsley, shake dry and chop finely.
Mix the vegetables with the millet mixture, hemp protein, kale powder and leave to cool slightly, then stir in the eggs, cheese, breadcrumbs, parsley and a little oil.
Form 6 to 8 patties from the mixture, heat the remaining oil in a frying pan and fry the patties until golden brown.