Vegan cream puff with raspberry-acerola filling
Preparation time: about 2 hours - Difficulty: easy
Ingredients for the dough:
- 6 tsp egg substitute powder
- 6 tbsp water
- 150 g wheat flour
- 30 g starch
- 250 ml soy drink
- 1 pinch salt
- 1 packet vanilla sugar
- 20 g margarine
- 1 packet baking powder
- 20 g margarine
Ingredients for the filling:
- aquafaba from a can of chickpeas
- 100 g raspberries
- 1⁄2 tsp vanilla powder
- 1-2 tbsp coconut blossom sugar (regular sugar optional)
- 1-2 tbsp
acerola powder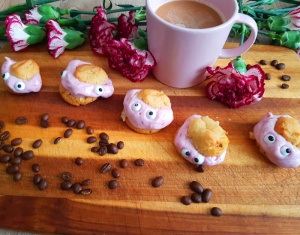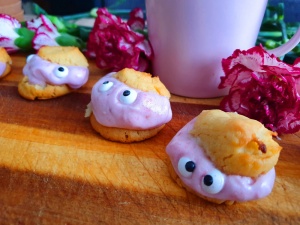 Preparation:
Mix the egg substitute powder with water.
Put the wheat flour in a bowl and mix in the starch.
Put the soy drink in a saucepan and bring to the boil with 1 pinch of salt. Add vanilla sugar and margarine and wait until it melts in it.
Bring the liquid to a boil on high and stir in the flour-starch mixture.Stir constantly, a dough will form very quickly. Continue to cook until a white coating forms in the pot.
Remove the saucepan from the heat and gradually stir in the egg substitute and the baking powder.
Let the dough rest for 10 minutes. In the meantime, line a baking tray with baking paper and preheat the oven to 220°C top/bottom heat.
Then knead the dough again vigorously to a homogeneous mass. These are then draped on the baking tray in the size of a walnut.
The cream puffs remain in the oven on the lowest shelf for 25 minutes.
IMPORTANT! Do not open the oven during baking. Otherwise the cream puffs will collapse.
While the pastry is in the oven, you can prepare the filling.
Beat the aquafaba with a hand mixer until stiff, add the sugar and vanilla.
Then puree the raspberries, add acerola powder and carefully stir into the "aquafaba cream" until there are no more lumps and we have a nice pink color.