Carrot cake variant 2 - with baobab powder and pollen decoration
Preparation time: 60 minutes - Difficulty: easy
Ingredients dough:
- baking pan with 26 cm diameter, or 2 smaller
- 4 eggs
- 300 g raw cane sugar
- pulp of 1 vanilla pod
- 270 ml sunflower oil
- 200 g spelt flour type 630
- 1 packg. Baking powder
- 1 tsp. baking soda
- 2 tbsp.
baobab powder
- 1 pinch sea salt
- 1 tsp. cinnamon
- 115 g ground almonds
- 200 g coarsely chopped walnuts
- 500 g finely grated carrots
-
Bee Pollen (Bio)
Ingredients for the frosting:
- 250 g powdered sugar
- 250 g soft butter
- 250 g cold cream cheese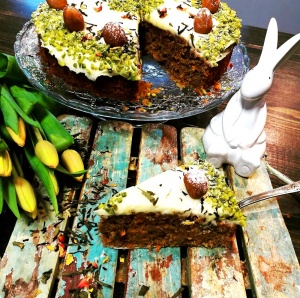 Preparation:
Preheat oven to 170°C convection.
Beat the eggs, sugar and vanilla with a hand mixer until foamy, slowly adding the oil.
Mix flour, baking powder, bicarbonate of soda, boba powder, salt and cinnamon, sift and gradually stir into the egg-sugar mixture.
Then fold the almonds, nuts and carrots into the batter.Pour the whole mixture into a greased springform pan and spread the surface evenly.
Bake in the preheated oven at 170°C on the middle shelf for approx. 45-55 minutes, test with a stick and cover with baking paper if necessary.
For the frosting, sift the powdered sugar, mix with the soft butter until creamy and gradually stir in the cream cheese.
Spread the mixture evenly on the well cooled cake, smooth and decorate as desired, here an Easter variant with chopped pistachios, Bee Pollen (Bio) and chocolate bunnies.