Peppers stuffed with mushroom hemp protein and rice

Vegan - Gluten Free - Lactose Free

Preparation time: 45 minutes - Difficulty: easy
Ingredients for 4 servings:
- 1.5 cups basmati brown rice
- 4 red bell peppers
- half a bunch of spring onions
- 300g mushrooms
- 3 tbsp
pumpkin
or
hemp protein
- 2 thick tomatoes
- 1 bottle of strained tomatoes
- 100g baby spinach
- 1 pinch of sugar
- garlic, paprika powder,
thyme
- salt, pepper
- 2 tbsp olive oil
- possibly 100g grated cheese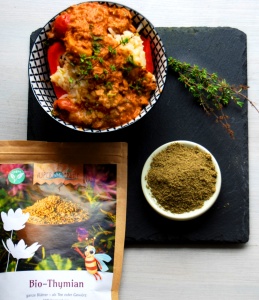 Preparation:
Prepare the rice according to package instructions, preheat the oven to 200 degrees top/bottom heat.
Cut the peppers in half, remove the seeds and place them in a greased baking dish. Sprinkle the insides with salt and pepper.
Slice the spring onion into thin rings, dice the mushrooms and tomatoes, and clean and roughly chop the spinach.
Sauté the spring onion in a little oil, add the mushrooms and sauté, then add the tomatoes and continue to sauté, deglaze with the strained tomatoes and bring to the boil.
Fold in the baby spinach, season with the spices and add the protein powder.
Fill the bell pepper halves with the cooked rice, pour the vegetable sauce on top, sprinkle with cheese if desired and place in the oven for about 20 minutes.