Vegetable quiche with turmeric, thyme, kale powder
Preparation time: 45 minutes - Difficulty: easy
Ingredients shortcrust:
- 190g spelt flour type 630
- 80g margarine soft (altern. butter)
- 1 linseed egg: 1 tbsp ground golden linseed in 3 tbsp hot water for 5 minutes to swell (altern. egg). Egg)
- 1 pinch salt
- 1 tsp
turmeric
- 1/2 tsp
thyme
dried
Ingredients Vegetables:
- 1 onion
- 3 garlic
- 1 leek
- 2 tbsp olive oil
- 1 tuber beetroot
- 2 carrots
- 400 g chard
- 3 tomatoes
- Wash, peel and chop the vegetables according to the desired shape
Ingredients & Preparation Glaze:
- A block of Greek-style cheese e. g. from violife (alternative to butter).b. from violife (altern. Feta)
- 2 tbsp.
kale powder
- 200 ml oat - cuisine (altern. cream)
- 2 tbsp. yeast flakes
- 1 tbsp. chickpea flour
- 1 tsp.
turmeric
- mix all ingredients together and season with salt, pepper and nutmeg.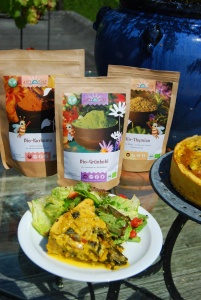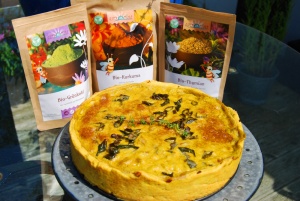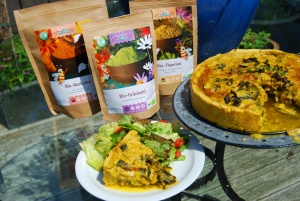 Preparation of the dough:
Prepare the flaxseed egg and let it swell.
Place flour and salt in food processor or large bowl, add margarine in chunks and knead with flaxseed egg until smooth. Chill in cling film for at least 30 minutes.
Then put the dough into a greased springform pan sprinkled with breadcrumbs, knead out with your fingers and raise a rim. Add the vegetables and bake at 220 degrees preheated convection heat for 10 minutes, then reduce to 180 degrees and bake for another 30 to 40 minutes until golden brown.
Preparation of vegetables:
With the exception of the chard leaves, sauté all the chopped vegetables in the olive oil and garlic for 5 minutes until lightly browned, add the chard leaves, sauté for a further 3 minutes, add the dressing and cook on a low heat for a further 5 minutes.