Veggie Mett - minced meat with vegan protein powder

Vegan - Gluten Free - Lactose Free

Preparation time: 60 minutes - Difficulty: easy
Ingredients for about 500g vegan mince:
- 100 g organic rice cakes (one pack) unsalted
- approx. 300 ml water
- 2 small onions
- 4 tablespoons tomato paste
- 1 tablespoon olive oil
- 1 tablespoon
hemp protein
or
pumpkin seed protein
- some pickle juice
- salt, bell pepper, paprika, pinch of cayenne bell pepper, a few dashes of soy sauce
- garlic to taste
- For decoration fresh parsley & onion slices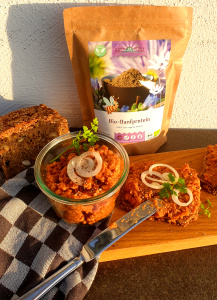 Preparation:
Crumble/crush the rice cakes either by hand in a bowl or in a blender (not too fine).
Now chop the peeled onion and sauté for about 3 min at 100 degrees, meanwhile add the olive oil and dry spices.
Now add the tomato paste, hemp powder, cucumber broth, soy sauce, rice cake mix and water, stir it properly until it becomes a uniform mass and season it with salt and pepper.
Then pour the mixture into a clean, well-sealed jar or other container.
Now your veggie patty is ready to eat, but if you refrigerate it for a few more hours, the spices will infuse well and it will be especially delicious. Stored in the fridge, the veggie mince will keep for about 3-4 days.
We love it on our super seeded bread with hazelnuts and like to add fresh parsley and paper-thin slices of onion on top.